Spexel.ai and the University of Turku's Flavoria® research platform, a lunch restaurant and café acting simultaneously as a R&D laboratory, have launched a pilot project to evaluate imaging technology and AI-powered computer vision with deep learning for food identification.
The setup
At Flavoria® lunch restaurant a camera was installed above the cash register to take a photo of the lunch tray when placed in a marked area. Over a period of several weeks thousands of images were collected which will be used for development, training and testing of machine learning classifiers and models.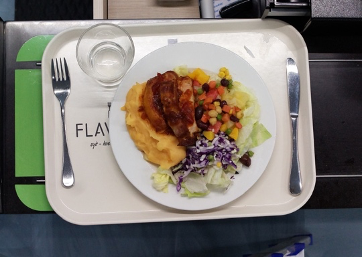 Future goals and development 
Spexel.ai aims to develop a low-cost and highly scalable image-based solution for monitoring, recording and analysing food consumption and food waste in e.g., food waste collection points, self-service lunch lines or professional kitchens.
This imaging solution will provide consumers and businesses alike valuable information on the food consumed, quantifying the portions as well as providing information on nutritional value.
Environmental, social and financial benefits
In addition to consumers who are interested making more informed eating decisions, this solution could be used by restaurants and food services companies to gain valuable and actionable insight into customer habits and food preferences to better optimize operations and minimize food waste.
 "We are interested in developing Flavoria's measuring technology from users' perspective, which is why we decided to start this imaging pilot with Spexel. We wanted to find out, whether computer vision could bring more reliability and user-friendliness to the collection of research data" says Pauliina Ojansivu, Research Coordinator at Flavoria.
The pilot was interesting also from a commercial point of view.
"We believe that imaging could open up new horizons at Flavoria and facilitate the replication of the technological solution", adds Mari Norrdal, Development Manager at the University of Turku.
More information on Flavoria:
Flavoria® is a multidisciplinary research platform at the University of Turku comprising of a unique lunch restaurant, café and a snack shop. The research activities focus on providing new scientific knowledge and consumer understanding on people's genuine experiences and choices, human health and the sustainable development of both society and business.